Kate McElwee has provided this list of media links:
NCR: Catholic activists raise ordination issue as pope's U.S. trip approaches 
Reasonably Catholic: Kate McElwee on Grab Bag episode 
"Your Holiness….Welcome to America! And while most of us agree with your call for a serious and more potent role for women in the Church, we Americans would do even more — a whopping 88% of us are calling for women priests." – Maria Shriver and Sister Joan Chittister (read more)
NCR: Women ordination advocates' multi-media appeal 
NCR: Women's ordination conference opens in Philadelphia 
Irish Times: Question Time: What can be done to address the shortage of Catholic priests? 
America Magazine: California Bishop Voices Support for the Ordination of Women 
Christian Today: Pope Francis says it's a closed book, but some Catholic women are getting ordained anyway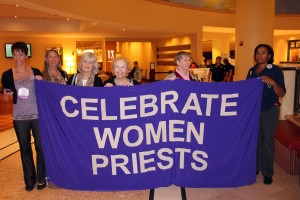 The Advertiser: Why won't the Catholic Church ordain female priests? 
ABC: CONFERENCE SHINES SPOTLIGHT ON WOMEN ORDAINED AS PRIESTS
philly.com: Women priests call for a more inclusive church
NCR: Mary Hunt: 10 reasons to celebrate 40 years of women's ordination 
NPR: In Defiance Of The Church, Some Catholic Women Seek Priesthood 
"He cannot preach about love and equality and poverty whilst telling women that they cannot discern their own vocations in life and that men need to decide what you can and cannot do and where you can and cannot speak." Miriam Duignan, WOW Leadership Circle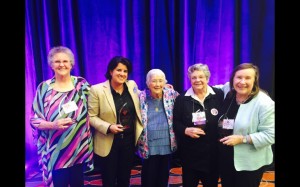 NCR: Theresa Kane's message to Pope Francis: eradicate scandal of gender inequality 
PA NJ Radio: Should women be ordained in the Church? 
NCR: Four women honored with 'Theresa Kane vision and courage' awards 
NCR: Theologian: 'Gender insights challenge priesthood theology' 
Newsworks: Meeting in Philly, group continues push for ordaining women as Catholic priests 
NCR: Priests offer support for women's ordination 
NCR: Theologian: 'Ordination ideas have changed over time' 
NCR: Priest sanctioned after appearing at women's ordination gathering 
New York Magazine: What Activist Nuns Really Think about Pope Francis
NCR: Women's ordination: WOW delivers its message to the world 
NCR: Women's ordination conference ends in song, dance, Eucharist 
"If women are not accorded equal place in the leadership of the Catholic Church and the other great world religions, they will always be treated as inferiors in earthly matters as well. There is nothing this Pope could do that would improve the world as much as putting the Church on a path to ordain women." -Sen. Tim Kaine (read more)
NCR: As meeting ends, ordination advocates claim renewed purpose 
CNS: Protesters urge pope to approve women's ordination 
Refinery 29: Meet The Women Priests Who Are Defying The Catholic Church 
Newsweek: 7 Arrested After Group Seeking Ordination of Female Priests Protests Pope Francis in Washington 
LA Times: Women as Roman Catholic priests? Opinions are divided — and fiery 
LA Times: To Pope Francis: What about women? 
NCR: A church that dreams of rights for women can be great, too 
Bustle: Pope Francis Says Women Are The Future Of The Church, So Where Are They? 
CNN: Not Everyone is a Francis Fan 
Democracy Now!: Female Priests Stage Die-In Outside D.C. Church Urging Pope Francis to Open Priesthood to Women 
WUSA: Protesters issued citations during papal visit to DC 
"I feel the pain of being silenced, and in this silencing I am beginning to feel the deep pain women feel all over the church." – Fr. Jack McClure, sanctioned for his participation in WOW 2015
Guardian: Protesters urge pope to ordain female priests and stop 'legitimizing sexism' 
Wochit News: Protesters Urge Pope to Ordain Female priests (VIDEO)
DCist: Protesters Advocating For Women Priests Removed Ahead Of Papal Visit 
Huffington Post: Protesting Priests Urge Pope To End 'Thousands Of Years Of Misogyny'
NBC: Renegade Female Priests Hold Peaceful Protest Amid Pope Francis' Visit 
New York Times: Francis, the Perfect 19th-Century Pope 
The Real News: Priests to Pope: Stop the Sexism 
"When Pope Francis talks about the poor and people who suffer and discounts women in the same breath, his message is really without integrity." Margaret Johnson, WOC Board Member (read more)
NBC: Women Priest Protesters Arrested During Pope Visit 
The Rivard Report: Gender, Gospel, and Global Justice